31 May, 2022
Wee Foresters plant thousands of trees across Scotland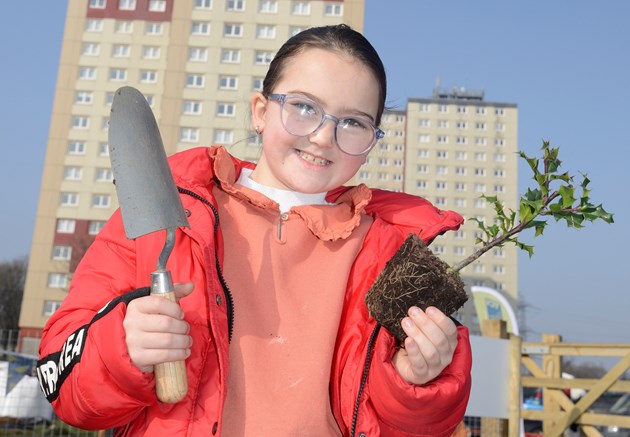 School children and local communities have planted more than 16,000 native trees as part of Scotland's growing network of Wee Forests.
A total of 27 urban forests are now taking root in towns and cities across the country, including Aberdeen, Dundee, Edinburgh and Glasgow, thanks to the hard work and support of pupils from over 50 schools and 1,000 volunteers in ten local authorities, supported by six local environmental organisations.
Most Wee Forests have been planted near primary schools in areas with a lack of nature-rich greenspace. But planting is just the beginning, as the school children, or "Wee Foresters", begin learning how to care for the trees and monitor the nature they attract.
Led by NatureScot, and supported by £500k of Scottish Government funding, Wee Forests give young people the opportunity to tackle nature loss and the climate emergency, as well as contributing to Scotland's tree planting targets by planting and looking after their own forests in their own neighbourhoods.
Each forest contains around 600 native trees, and is capable of attracting up to 500 different animal and plant species with the first three years. Volunteer Tree Keeper Teams are protecting and monitoring the forests as they grow, while schools can use the nature-rich spaces for outdoor learning.
Supported by Earthwatch Europe, young people will also take part in science activities to raise awareness of climate change and the value of urban trees. This will include monitoring the butterflies that use the forests and measuring how much carbon is captured by the trees as they grow.
Environment Minister Mairi McAllan said:
"This fantastic network of Wee Forests is an important legacy of COP26 and is a great example of partnership working between the public, private and voluntary sector. Connecting people with nature, particularly in urban areas, brings so many benefits in terms of health and wellbeing. Creating more green spaces will enable people to enjoy spending time outdoors and care for the natural environment on their doorstep.
"As we approach COP15 on biodiversity, innovative projects like this will showcase to the rest of the world how Scotland is leading the way in our action to tackle the twin crises of climate change and nature loss."
NatureScot Board Member Dr Heather Reid said:
"These Wee Forests are inspiring young people to protect, restore and value nature. As they grow up alongside their forests, they'll not only benefit from learning about nature, but they'll also spend more time in the outdoors, improving their physical and mental health.
"Recent research shows that when people get involved in science activities such as those available through Wee Forests, they develop and sustain positive attitudes towards the environment and we're keen to encourage more of this.
"It's fantastic to see so many of these urban forests taking root in our towns and cities, so a huge thanks to our partners and all the young people and local communities which helped make this happen. We're now working with partners to find ways to bring even more Wee Forests to more people across the country."
Earthwatch Europe CEO Steve Andrews said:
"We are delighted to be working in partnership with NatureScot to expand the Wee Forest movement across Scotland. Getting communities involved in planting and ongoing citizen science at their local Wee Forest is an exciting opportunity to connect people with nature, whilst providing vital data on forest growth and environmental benefits."
Contact information
Name

NatureScot Media

Telephone

0131 316 2655

Email
Notes to editors
NatureScot has coordinated the delivery of 20 Wee Forests this year in partnership with Earthwatch Europe and a network of local delivery partners including Green Action Trust, The Conservation Volunteers (TCV), Edinburgh and Lothians Greenspace Trust, East Ayrshire Woodlands, Aberdeen City Council and Dundee University Botanic Garden. In addition, Earthwatch Europe delivered a further seven Wee Forests in 2021 with funding from a range of private sector sponsors.
Wee Forests is the Scottish name for TinyForest®, part of a global community of practice based on the methods of Japanese Botanist Akiri Miyawaki.
For more information and a full list of Wee Forests planted so far, see https://www.nature.scot/climate-change/nature-based-solutions/wee-forests-part-tinyforest-global-family.
For additional quotes from local delivery partners, please contact:
Edinburgh and Lothians Greenspace Trust
The Conservation Volunteers (Scotland)
Green Action Trust
East Ayrshire Woodlands
Dundee University Botanic Garden
Aberdeen City Council
About Earthwatch Europe:
Earthwatch is an environmental charity with science at its heart. We drive the change needed to live within our means and in balance with nature. We do this by:
Connecting people with the natural world
Monitoring the health of our natural resources
Informing the actions that will have the greatest positive impact
For more information visit www.earthwatch.org.uk
NatureScot is Scotland's nature agency. We work to enhance our natural environment in Scotland and inspire everyone to care more about it. Our priority is a nature-rich future for Scotland and an effective response to the climate emergency. For more information, visit our website at www.nature.scot or follow us on Twitter at https://twitter.com/nature_scot
'S e NatureScot buidheann nàdair na h-Alba. Bidh sinn a' neartachadh àrainneachd na h-Alba agus a' brosnachadh dhaoine gu barrachd suim a chur ann an nàdar. Tha e mar phrìomhachas againn gum bi nàdar na h-Alba beairteach agus gun dèilig sinn gu h-èifeachdach le èiginn na gnàth-shìde. Tha an tuilleadh fiosrachaidh aig www.nature.scot no air Twitter aig https://twitter.com/nature_scot