03 December, 2019
Report finds SNH nature reserves generate £28m in benefits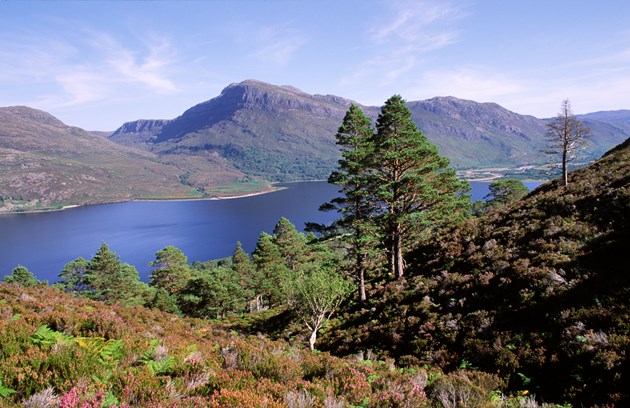 Nature reserves owned by Scottish Natural Heritage (SNH) generate £28m worth of climate, tourism, recreation, and health benefits a year, research published today reveals.
The report – the first of its kind produced by a public body in Scotland – measures the value of the natural capital of the 56,000ha of land owned and managed by SNH, which is mainly comprised of National Nature Reserves (NNRs).
Natural capital is the stock of Scotland's plants, wildlife, air, water, and land providing benefits to the people and businesses across the country. Assessing the monetary value of natural capital is one way to show how nature provides many benefits to everyone in their everyday lives. Using the natural capital approach to understand nature's wider benefits can in turn help businesses and other organisations make more informed decisions based on a broader picture which includes the environment.
The report's calculations include volunteers contributing 4,659 days of work (£421k); SNH land sequestering carbon, mainly through its woodland and saltmarsh habitats (£2m) and air quality filtration benefits (£73k). Other benefits valued in the report include food, education, renewable energy production, and health and well-being.
Annual management costs were estimated at £3.5million, which means we estimate the benefits of SNH land outweigh the costs by eight to one. The true capital benefits may be much higher, however, as it isn't currently possible to measure other advantages, such as water quality, mental health benefits and flood risk mitigation.
SNH Chief Executive Francesca Osowska said:
"This innovative report vividly illustrates that our nature reserves are providing an outstanding return on investment of time, money and resources.
"Nature is an asset, but one we need to protect and invest in. Key to this is tackling climate change impacts – and nature is a solution. We need a rich variety of life to be able to sustain food supplies, water and the air we breathe. But it's not just about conservation - enhancing our nature is also part of the solution to the climate emergency. Our nature reserves are critical to our work of ensuring a nature-rich future for Scotland."
SNH is the first public body to publish natural capital accounts for their land in Scotland, and could provide a template for other public bodies to consider this approach. Read the full report at https://bit.ly/33MF1We. To find out more about Scotland's NNRs, see www.nnr.scot
ENDS
Contact information
Name

NatureScot Media

Email
Notes to editors
The report, Testing a Natural Capital Approach on SNH land, will help inform SNH's future decisions about its land to secure greater benefits for people and nature. Having good information on the state of natural assets and their benefits will help land owners and managers consider how best to use their land to benefit society.
NatureScot is Scotland's nature agency. We work to enhance our natural environment in Scotland and inspire everyone to care more about it. Our priority is a nature-rich future for Scotland and an effective response to the climate emergency. For more information, visit our website at www.nature.scot or follow us on Twitter at https://twitter.com/nature_scot
'S e NatureScot buidheann nàdair na h-Alba. Bidh sinn a' neartachadh àrainneachd na h-Alba agus a' brosnachadh dhaoine gu barrachd suim a chur ann an nàdar. Tha e mar phrìomhachas againn gum bi nàdar na h-Alba beairteach agus gun dèilig sinn gu h-èifeachdach le èiginn na gnàth-shìde. Tha an tuilleadh fiosrachaidh aig www.nature.scot no air Twitter aig https://twitter.com/nature_scot