14 February, 2021
Progress report reveals boost for bees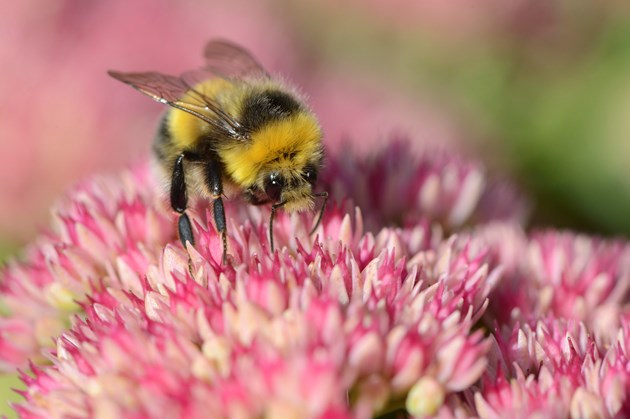 RELEASED SUNDAY FOR MONDAY PUBLICATION (15 FEB)
A new report reveals Scotland's bees and other pollinators were given a welcome boost in 2020, despite Covid restrictions.
From 32 pollinator hotspots along the John Muir Way, to more nature friendly towns and cities, to new species-rich grassland in our rural areas, NatureScot's report highlights good progress made by more than 30 partners in the past year towards delivering the Pollinator Strategy for Scotland.
Pollinators are vital for our biodiversity, but populations face challenges due to changes in land use, habitat loss, diseases, pesticides and climate change.
The strategy aims to make Scotland more pollinator-friendly, halting and reversing the decline in native pollinator populations.
The report praises the work of local authorities as they continue to introduce pollinator-friendly ways to manage their parks and green spaces. It also recognises the vital role of community groups and environmental bodies such as Buglife Scotland, Bumblebee Conservation Trust and Butterfly Conservation in driving multiple projects forwards.
During the year, work was done to create wildflower meadows, build bee banks and bug houses, plant pollinator friendly trees and shrubs and transform roadside verges.
Last summer, NatureScot-funded surveys showed Scotland's Agri-Environmental funding helped improve habitat for pollinators, creating and managing hedgerows and species-rich grassland.
There was further good news with many more scientists and volunteers taking part in the UK's National Pollinator Monitoring Scheme in Scotland.
NatureScot Chief Executive Francesca Osowska said: "Despite the challenges we faced in 2020, this progress report contains a lot of good news, and demonstrates the many far-reaching actions which are helping to boost pollinator populations across Scotland.
"Transforming our towns and cities into greener and healthier spaces is essential for pollinators and people alike, and the clear message is that we can all do our bit to help bees, butterflies and hoverflies thrive.
"No matter how big or small our own gardens and community spaces, if we take action to provide food and shelter for pollinators we can help these vital insects and in doing so ensure a nature-rich future for Scotland."
The report includes helpful tips for members of the public who want to help provide food and shelter for pollinators, including:
Aim to have pollinator-friendly plants flowering between March and October – the key period for pollinators.
Remember that daffodils are not the best bulbs for pollinators. Supplement them with some pollinator-friendly bulbs – try snowdrop, crocus, allium and grape hyacinth.
Many plants such as Aubretia will do well in containers and window boxes. Perennial herbs are also very popular for the scent and colour they can provide. Try chives, lavender, rosemary, sage and thyme.
Reducing mowing can create an undisturbed wildflower patch, strip or meadow for pollinators. If grass cutting can be avoided until after the dandelions have flowered but before they set seed, they will provide an important source of food for all types of pollinators.
Hedgerows offer a habitat for wildlife that fences can never match. Bumblebees often nest in the long grass at the base of flowering hedgerows which are a valuable food source. Consider planting hedgerows made of flowering trees and shrubs such as Hazel, Willow, Blackthorn and Hawthorn.
For more tips to help nature this winter see NatureScot's Make Space for Nature guide.
ENDS.
Contact information
Name

NatureScot Media

Telephone

0131 316 2655

Email
NatureScot is Scotland's nature agency. We work to enhance our natural environment in Scotland and inspire everyone to care more about it. Our priority is a nature-rich future for Scotland and an effective response to the climate emergency. For more information, visit our website at www.nature.scot or follow us on Twitter at https://twitter.com/nature_scot
'S e NatureScot buidheann nàdair na h-Alba. Bidh sinn a' neartachadh àrainneachd na h-Alba agus a' brosnachadh dhaoine gu barrachd suim a chur ann an nàdar. Tha e mar phrìomhachas againn gum bi nàdar na h-Alba beairteach agus gun dèilig sinn gu h-èifeachdach le èiginn na gnàth-shìde. Tha an tuilleadh fiosrachaidh aig www.nature.scot no air Twitter aig https://twitter.com/nature_scot