27 February, 2019
NEW INTERNATIONAL REPORT SETS OUT HOW SCOTTISH WILDCATS CAN BE SAVED FROM EXTINCTION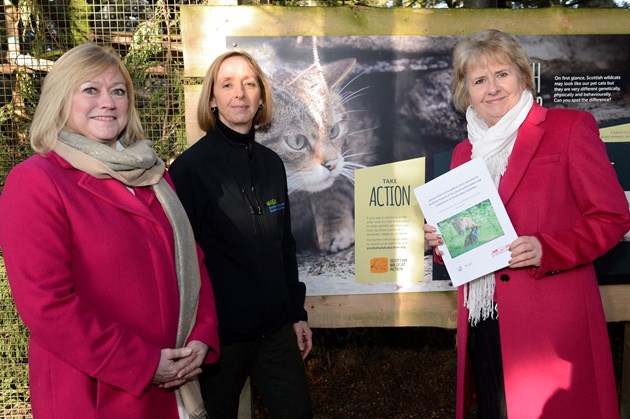 Plans for the essential next steps to give the wildcat a sustainable future are underway, following a report by members of The International Union for Conservation of Nature (IUCN)'s Cat Specialist Group.

The report, published today, reviews all evidence collected and concludes there is no longer a viable wildcat population living wild in Scotland.
The wildcat – also known as the Highland tiger – is one of the UK's most endangered mammals. Previous studies have cited hybridisation – the breeding of domestic pet and feral cats with wildcats – as the major threat to their survival in the wild. It is thought hybridisation began to affect the wildcat severely between the 1950s and 1980s, with limited food sources and persecution resulting in the few remaining wildcats breeding with domestic cats.
Cabinet Secretary for the Environment, Climate Change and Land Reform, Roseanna Cunningham, today welcomes the publication of the report at the Royal Zoological Society of Scotland's Highland Wildlife Park, near Aviemore.
"This report presents us with further evidence of the serious challenges that wildcat conservation faces in Scotland. The wildcat is an iconic Scottish species and, as such, I will consider every possible action the Scottish Government can take to save it, including an increased focus on captive breeding and reinforcement of the Scottish population with wildcats from elsewhere. We have in place a partnership of scientists and specialists with the knowledge and expertise to give us the best chance of restoring the Highland Tiger as a distinctive and charismatic species in the Scottish countryside, and I look forward to working with them to make this a reality."
SWA project partner Royal Zoological Society of Scotland is progressing a series of options for the wildcat's sustainable future in partnership with a range of organisations, including a potential release programme of captive-bred wildcats and a National Wildlife Reintroduction Centre.
Scottish Wildcat Action Steering Group Chair, Dr Andrew Kitchener, Principal Curator of Vertebrates at National Museums Scotland, said: "We now have the strongest and most reliable evidence to date that wildcats are in a more endangered state than previously understood. While we believe there are wildcats remaining in the wild in Scotland, there are no longer enough to ensure their continued survival as viable populations. We can now plan the essential next steps to give the wildcat a sustainable future."
Scottish Natural Heritage Head of Policy and Advice, Eileen Stuart said: "We now have our greatest opportunity to work with expert partners to develop a future for the wildcat. A key part of this will be a national conversation on domestic pet and feral cat populations and how we manage these. , The public will have an important role in helping minimise future hybridisation. Responsible cat ownership - including microchipping, neutering and vaccinations - is one way we can help reduce the devastating effects on wildcats."
Cat Conservation Project Officer at the Royal Zoological Society of Scotland, David Barclay, said: "We know the road ahead for wildcat recovery will be challenging, but our strong partnerships with SWA and international conservation specialists give us an incredible opportunity for success.
"Our plans for a National Wildlife Reintroduction Centre at Highland Wildlife Park will provide the perfect environment for breeding genetically tested wildcats with the aim of releasing them back to the wild to re-establish viable populations in key locations.
"Combined with the continued development of the conservation breeding programme, this will ensure we have a long-term solution for the recovery and conservation of this iconic species.
"Together we can restore Scotland's wildcats to their rightful place as an integral link in a thriving ecosystem."
SWA Priorities Area Manager Dr Roo Campbell: "I would like to thank the Scottish Wildcat Action team and our dedicated volunteers for their hard work and enthusiasm, without which we would not be able to draw these conclusions. With help from the captive population and continuing commitment from volunteers and the wider public, securing the future of wildcats in the wild is still possible."
ENDS
Media enquiries: For more information contact Duncan McKenzie, Scottish Wildcat Action Communications Co-ordinator on 07799 342380 or email duncan.mckenzie@scottishwildcataction.org.
Pictures: Top picture features (left to right) RZSS CEO Barbara Smith, SNH's Head of People & Nature, Eileen Stuart, and Scotland's Environment Secretary, Roseanna Cunningham. Please credit SNH/Lorne Gill.
Contact information
Name

NatureScot Media

Email
Notes to editors
SWA - a partnership of over 20 leading organisations working to give the wildcat a future in Scotland - invited the world's leading cat scientists and conservationists to carry out the independent assessment, following increasing concerns over the future of wildcats in Scotland.
Scottish Wildcat Action – a multi-partner project was launched in 2015 to address the threats to wildcats, particularly from hybridisation and land management. Working in discrete 'wildcat priority areas', the project carried out the UK's largest ever survey of wild-living cats in an attempt to gauge the extent of hybridisation, as well as establish the number of wildcats left in Scotland. To counter the threat of hybridisation and disease in these areas, we have been following those surveys up with the trap, neuter, vaccinate and return of feral domestic cats and those that we can clearly identify as hybrids.
The biggest threats to the wildcat are disease, road deaths, habitat loss, changes in land management practices, historical persecution and the symptom of all that, hybridisation with domestic and feral cats.
IUCN SSC (International Union for the Conservation of Nature – Species Survival Commission) Cat Specialist Group
The IUCN/SSC Cat Specialist Group brings together more than 194 of the world's leading cat experts, including scientists, wildlife managers and conservationists from 62 countries who are dedicated to advance the understanding and conservation of the world's 40 wild living cat species. It is one of over 120 similar international specialist groups forming the Species Survival Commission (SSC) of the International Union for Conservation of Nature (IUCN). http://www.catsg.org/index.php?id=1
In spring 2018, the Scottish Wildcat Conservation Action Plan Steering Group commissioned the IUCN SSC Cat Specialist Group to review the conservation status of the wildcat in Scotland and the implementation of conservation activities so far. The review was done based on the scientific literature and available reports.
To access the report, see https://www.nature.scot/wildcat-scotland-review-conservation-status-and-activities
NatureScot is Scotland's nature agency. We work to enhance our natural environment in Scotland and inspire everyone to care more about it. Our priority is a nature-rich future for Scotland and an effective response to the climate emergency. For more information, visit our website at www.nature.scot or follow us on Twitter at https://twitter.com/nature_scot
'S e NatureScot buidheann nàdair na h-Alba. Bidh sinn a' neartachadh àrainneachd na h-Alba agus a' brosnachadh dhaoine gu barrachd suim a chur ann an nàdar. Tha e mar phrìomhachas againn gum bi nàdar na h-Alba beairteach agus gun dèilig sinn gu h-èifeachdach le èiginn na gnàth-shìde. Tha an tuilleadh fiosrachaidh aig www.nature.scot no air Twitter aig https://twitter.com/nature_scot