08 July, 2020
Nature fund to tackle 'most at risk and vulnerable' species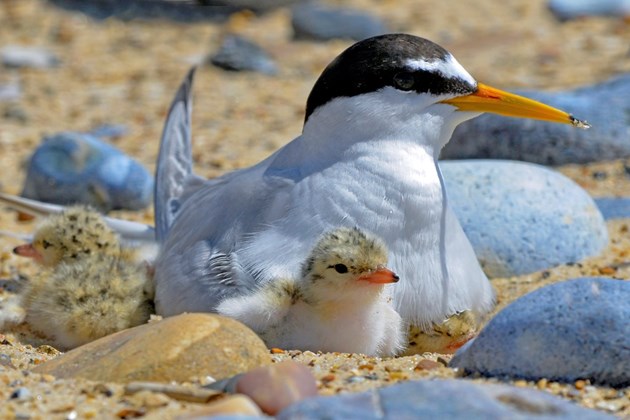 Plans are underway to take urgent action to save more than 40 of Scotland's most vulnerable coastal and island species, including the natterjack toad, Scottish primrose and little tern.
Species on the Edge, a bold and ambitious partnership project by Scottish Natural Heritage involving Amphibian and Reptile Conservation, The Bat Conservation Trust, Buglife, The Bumblebee Conservation Trust, Butterfly Conservation, Plantlife Scotland and RSPB Scotland will catalyse conservation action along Scotland's coasts and islands.
Initial development of the project is estimated to cost £0.5 million and has been kick-started by a National Lottery Heritage Fund award of over £260,000, ensuring crucial work could go ahead.
In 2020 the project will combine expertise and resources to develop a four and a half year programme for seven project areas, from the Solway to Shetland, benefitting over 40 vulnerable species including vital pollinators like the great yellow bumble bee, rare Scottish moths such as the slender scotch burnet, wading birds such as lapwing and curlew and the 'jewel of the north', the Scottish primrose.
Working with some of Scotland's most geographically remote and diverse communities, expert partners will develop plans based on best scientific knowledge and local expertise and experience to create opportunities for people and communities to provide a vital lifeline for some of our most nationally vulnerable and internationally important coast and island fauna and flora. The project will also explore use of the arts and new technology to encourage the involvement of communities, land managers, crofters and tourism operators.
Recent reports have set out an unprecedented rate of species decline[1]. The State of Nature Scotland report 2019 revealed that 49% of Scottish species have decreased. Of the 6,413 species found in Scotland that have been assessed 11% have been classified as threatened with extinction. Species on the Edge will work as part of action urgently required to tackle the global crisis and halt further losses.
Of the 40 'Red List' species targeted by the project, 19 are threatened by land use change, 8 from climate change and the remainder through a combination of influences such as pollution, invasive non-native species and exploitation.
Francesca Osowska, SNH's Chief Executive said:
"Species on the Edge is among the UK's most ambitious nature projects to date, combining knowledge, expertise and resources to save Scotland's nature for future generations.
"People know that climate change is a big issue but not as many know that biodiversity loss is also a global and generational threat to human well-being. But it's not just about conservation - enriching our nature is also part of the solution to the climate emergency too."
"As lockdown conditions lift, green recovery projects like Species on the Edge put nature, and nature-based solutions, at the heart of rebuilding our economy. Investing in nature is the most cost effective way of making our communities sustainable and more resilient."
Caroline Clark, Scotland Director, The National Lottery heritage Fund, said:
"Species on the Edge represents a ground-breaking approach to nature conservation in Scotland. We are ultimately dependent on our ecosystem and thanks to a combination of National Lottery funding and expertise from across multiple agencies and conservation charities, we can make a positive and lasting change before it is too late."
[1] IPBES report Global Assessment Report on Biodiversity and Ecosystem Services
Contact information
Name

Cat Synnot

Email
Notes to editors
The Amphibian and Reptile Conservation Trust (ARC) is a national wildlife charity focusing on toads, frogs, newts, snakes, lizards and marine turtles. ARC conserves amphibians and reptiles, and the habitats on which they depend, to protect them for future generations. The Trust runs species recovery programmes, monitoring, scientific research, advocacy, outreach and regional projects. ARC owns 24 nature reserves and manages 80, covering 1,900 hectares, and works with a wide range of partner organisations, volunteers and specialists. ARC continues a 50-year history of reptile and amphibian conservation. The charity was established in June 2009 by the Herpetological Conservation Trust (HCT), which was formed in 1989. HCT grew out of the British Herpetological Society's Conservation Committee, formed in 1969. For more information visit www.arc-trust.org
The Bat Conservation Trust is the leading non-governmental organisation in the United Kingdom solely devoted to the conservation of bats and the landscapes on which they rely. The breadth and depth of our work is driven by our vision of a world rich in wildlife where bats and people thrive together. Through monitoring and direct conservation action we can secure the future of our 10 species of bat in Scotland.
Buglife - The Invertebrate Conservation Trust is the only charity in Europe devoted to the conservation of all invertebrates. Our aim is to halt the extinction of invertebrate species and to achieve sustainable populations of invertebrates across the UK. We are working hard to achieve this through: Undertaking practical conservation projects that will contribute to achieving our aim. Promoting the environmental importance of invertebrates and raising awareness about the challenges to their survival. Assisting in the development of legislation and policy that will ensure the conservation of invertebrates. Developing and disseminating knowledge about how to conserve invertebrates. Encouraging and supporting invertebrate conservation initiatives by other organisations in the UK, Europe and worldwide.
Further information is available on Buglife's website at www.buglife.org.uk, follow us on Twitter: @BuglifeScotland and 'Like us' on Facebook: Buglife – The Invertebrate Conservation Trust.
The Bumblebee Conservation Trust was established in May 2006 in response to ongoing declines in many bumblebee species, due primarily to habitat loss through agricultural intensification. In the last 80 years two species have become nationally extinct whilst populations of several others have crashed dramatically. Bumblebees are 'keystone' pollinators, integral to our natural environment, and providing significant economic benefits through pollination of crops. We aim to help bumblebees and the habitats that they depend on through conservation and education. For more information about our work, visit our website (http://bumblebeeconservation.org).
Butterfly Conservation is the UK charity dedicated to saving butterflies, moths and our environment. Our research provides advice on how to conserve and restore habitats. We run projects to protect more than 100 threatened species and we are involved in conserving hundreds of sites and reserves across the UK.@savebutterflies
BC has more than 2200 members living in Scotland where we work closely with local communities, landowners, the Scottish Government, Scottish Natural Heritage and other conservation partners, to safeguard Scotland's butterflies, moths and their habitats. www.butterfly-conservation.org/scotland
Plantlife is the organisation which stands up for wild plants and fungi. We work with land managers, government, business, local communities and partner conservation organisations to save our threatened wild plants and fungi. We conserve and restore native plant diversity, develop and lead restoration programmes, work with citizen scientists and academics to build a body of evidence, and campaign for better protection and conservation for wild plants and fungi. See www.plantlife.org.uk for more information.
RSPB Scotland is part of the RSPB, the UK's largest nature conservation charity, inspiring everyone to give nature a home. Together with our partners, we protect threatened birds and wildlife so our towns, coast and countryside will teem with life once again. We play a leading role in BirdLife International, a worldwide partnership of nature conservation organisations.
NatureScot is Scotland's nature agency. We work to enhance our natural environment in Scotland and inspire everyone to care more about it. Our priority is a nature-rich future for Scotland and an effective response to the climate emergency. For more information, visit our website at www.nature.scot or follow us on Twitter at https://twitter.com/nature_scot
'S e NatureScot buidheann nàdair na h-Alba. Bidh sinn a' neartachadh àrainneachd na h-Alba agus a' brosnachadh dhaoine gu barrachd suim a chur ann an nàdar. Tha e mar phrìomhachas againn gum bi nàdar na h-Alba beairteach agus gun dèilig sinn gu h-èifeachdach le èiginn na gnàth-shìde. Tha an tuilleadh fiosrachaidh aig www.nature.scot no air Twitter aig https://twitter.com/nature_scot