12 July, 2022
Holiday fun at Tentsmuir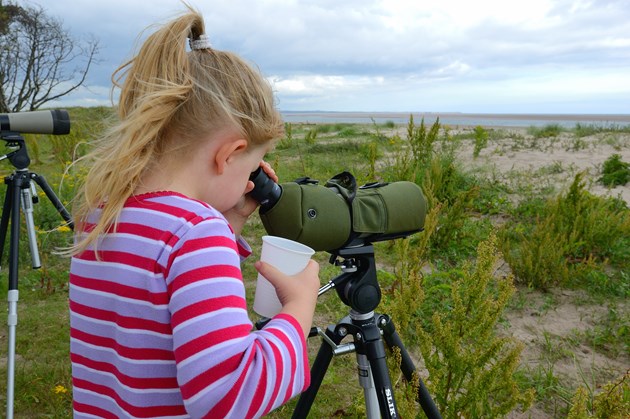 Tentsmuir National Nature Reserve (NNR) in Fife is holding an open day next week with a host of fun activities for all ages.
The event will take place on Tuesday July 19 from 10.30am to 3.30pm at the reserve's pavilion.
The free activities on offer include bird box building, bug bingo, pebble painting, wildlife viewing with scopes, medallion making and yoga on the beach.
Storytelling sessions will take place at 11am and 2pm and beach Olympics will get underway at 1pm. There will also be music throughout the day from the Ferryport Fiddlers.
Butterfly Conservation will be leading guided butterfly walks for visitors to learn about the butterflies of Tentsmuir and take part in a survey for the elusive grayling butterfly. Booking for these walks is essential and can be done on the Butterfly Conservation website: https://butterfly-conservation.org/events.
Marijke Leith, NatureScot's reserve manager, said: "Tentsmuir is a really special place and our open day is a great opportunity to get to know the reserve and its wildlife. From beach yoga to wildlife watching and expert butterfly walks, there's something for everyone to enjoy.
"There's no need to book, people can just turn up and take part in as many of our fantastic free activities as they like. Why not bring a picnic and make a day of it!"
Visitors can park at the Kinshaldy car park (cost £2 in coins) and a free shuttle bus will be running from the car park to the reserve throughout the day. Dogs on a lead are welcome but will not be permitted on the bus. For those who prefer to walk or cycle, the pavilion is 1.5miles from Kinshaldy car park. Portaloos will be available on site.
For more information, follow the Tentsmuir NNR Facebook page: https://www.facebook.com/tentsmuirNNR/
ENDS
Contact information
Name

NatureScot Media

Telephone

0131 316 2655

Email
NatureScot is Scotland's nature agency. We work to enhance our natural environment in Scotland and inspire everyone to care more about it. Our priority is a nature-rich future for Scotland and an effective response to the climate emergency. For more information, visit our website at www.nature.scot or follow us on Twitter at https://twitter.com/nature_scot
'S e NatureScot buidheann nàdair na h-Alba. Bidh sinn a' neartachadh àrainneachd na h-Alba agus a' brosnachadh dhaoine gu barrachd suim a chur ann an nàdar. Tha e mar phrìomhachas againn gum bi nàdar na h-Alba beairteach agus gun dèilig sinn gu h-èifeachdach le èiginn na gnàth-shìde. Tha an tuilleadh fiosrachaidh aig www.nature.scot no air Twitter aig https://twitter.com/nature_scot