16 June, 2022
Call to report Barra hedgehog sightings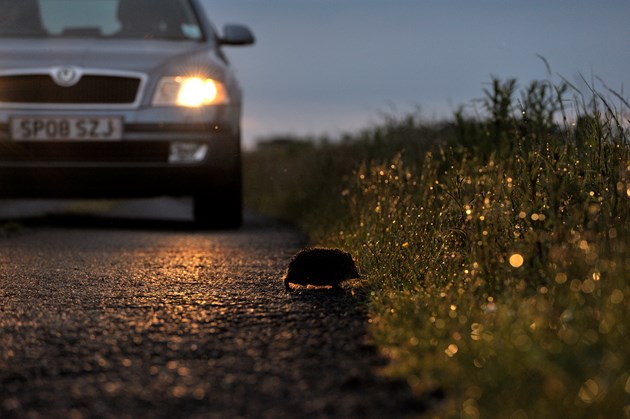 Residents and visitors to Barra are being urged to be vigilant after the first record of a hedgehog on the island.
NatureScot is asking people to report any sightings of the animals, which are not native to the Outer Hebrides, after a dead hedgehog was spotted on the road on Barra on June 9.
Hedgehogs were introduced to South Uist in 1974 and spread across the islands, causing significant harm to internationally important populations of ground nesting waders by eating their eggs.
NatureScot-employed trappers are currently on Barra, setting up a network of live catch traps and camera traps to establish whether more hedgehogs are present.
Two sniffer dogs owned by the trappers are being used to detect hedgehogs. Any hedgehogs caught will be relocated and released in a safe location.
Iain Macleod, NatureScot Operations Manager for Argyll & Outer Hebrides, said: "Following this initial report we are taking swift action to try and establish if other hedgehogs are present on Barra and what the scale of the problem might be.
"It's vitally important for the wader populations that these non-native animals don't get a foothold on the island. We'd encourage local residents and visitors alike to keep an eye out and report any further sightings to us.
"We recognise that many people love hedgehogs but in the wrong place they can be very damaging. While we don't know where this hedgehog may have come from, it's important to note that releasing mammals on islands can cause great harm to native wildlife and is treated as a serious wildlife crime."
Please report any sightings of hedgehogs on Barra or North Uist to the Uist Wader Project Manager, Telephone 07919691645, email: iain.macleod@nature.scot. Please get in touch if you live on Barra and would like to help out with the search.
The Uist Wader Research project has successfully removed hedgehogs from North Uist. NatureScot and RSPB are now exploring sources of funding to enable a full-scale removal of hedgehogs from Uist.
For more information, see: https://www.nature.scot/professional-advice/land-and-sea-management/managing-wildlife/uist-wader-research
ENDS
Contact information
Name

NatureScot Media

Telephone

0131 316 2655

Email
NatureScot is Scotland's nature agency. We work to enhance our natural environment in Scotland and inspire everyone to care more about it. Our priority is a nature-rich future for Scotland and an effective response to the climate emergency. For more information, visit our website at www.nature.scot or follow us on Twitter at https://twitter.com/nature_scot
'S e NatureScot buidheann nàdair na h-Alba. Bidh sinn a' neartachadh àrainneachd na h-Alba agus a' brosnachadh dhaoine gu barrachd suim a chur ann an nàdar. Tha e mar phrìomhachas againn gum bi nàdar na h-Alba beairteach agus gun dèilig sinn gu h-èifeachdach le èiginn na gnàth-shìde. Tha an tuilleadh fiosrachaidh aig www.nature.scot no air Twitter aig https://twitter.com/nature_scot