20 October, 2020
Autumnwatch comes to Tentsmuir and the Isle of May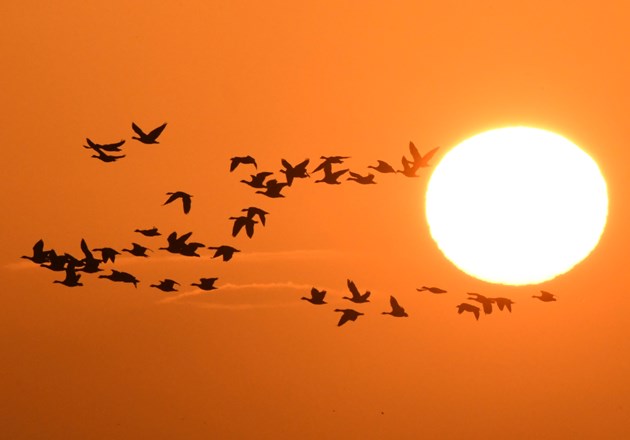 Popular BBC series Autumnwatch will broadcast live from Tentsmuir from next week, beaming the wildlife of this special area into homes across the country.
NatureScot and Forestry and Land Scotland (FLS) are delighted to welcome presenter Michaela Strachan to their joint site in Fife for the two week run.
For the first time, the series will also feature live cameras set up to capture the drama of grey seals pupping on NatureScot's Isle of May National Nature Reserve (NNR) in the Firth of Forth.
Tentsmuir is a magical combination of forest trails and coastal dunes, with a huge array of wildlife including red squirrels, seals, otters, badgers, white-tailed eagles, kingfishers, waders and sea ducks.
NatureScot's Marijke Leith, who manages Tentsmuir National Nature Reserve, said: "We are really excited to welcome the hugely popular Autumnwatch to the reserve and we're sure that the local wildlife won't disappoint!
"In these unprecedented times, and as the days grow shorter, nature can offer real solace, and we hope that this autumn we can help many more people connect with the amazing wildlife at this special site, especially those who are perhaps not able to get outdoors so easily at the moment."
Simon Hodgson, Foresty and Land Scotland Chief Executive, said: "We are delighted to welcome the Autumnwatch audience to Tentsmuir, which is one of Scotland's great coastal forests.
"This stunning mix of tall trees and open sand dunes is a special haven that is rich in wildlife, from otter to badgers, bats to red squirrels, and of course white-tailed sea eagles.
"That part of the site is a National Nature Reserve testifies to its unique character and we are pleased that the viewing public will see the benefit – at least in part – of the ongoing work that we do with our NatureScot partners to conserve this wonderful site."
Meanwhile on the Isle of May, a live camera will capture the grey seal pupping season in all its glory. Almost 2,500 pups are born each autumn at the NatureScot reserve, making it one of the most significant grey seal pup nurseries in the UK.
David Steel, who manages NatureScot's Isle of May NNR, said: "The grey seal pupping season is one of the great autumn spectacles along our shores and each year the Isle of May is transformed as the youngsters take over.
"As the island is closed to visitors during the season to give the pups and mothers peace, it's a spectacle that usually not many people get to witness. It's fantastic that thanks to the Autumnwatch cameras this year we can bring all the joy and drama of the colony live to people right across the UK."
Catch Autumnwatch at 8pm on BBC 2 from Tuesday Oct 27th.
ENDS
Media enquiries:
NatureScot: Communications Officer Catriona Webster on 0131 316 2638 / catriona.webster@nature.scot
Forestry and Land Scotland: Media Manager Paul Munro on 07785 527590 / paul.munro@forestryandland.gov.scot
Contact information
Name

NatureScot Media

Telephone

0131 316 2655

Email
Notes to editors
To find out more about Tentsmuir, visit NatureScot Tentsmuir National Nature Reserve or Forestry and Land Scotland Tentsmuir.
Find out more about the Isle of May National Nature Reserve and follow the action behind the scenes on the Isle of May NNR blog.
NatureScot is Scotland's nature agency. We work to enhance our natural environment in Scotland and inspire everyone to care more about it. Our priority is a nature-rich future for Scotland and an effective response to the climate emergency. For more information, visit our website at www.nature.scot or follow us on Twitter at https://twitter.com/nature_scot
Forestry and Land Scotland (FLS) manages forests and land owned by Scottish Ministers in a way that supports and enables economically sustainable forestry; conserves and enhances the environment; delivers benefits for people and nature; and supports Scottish Ministers in their stewardship of Scotland's national forests and land.
NatureScot is Scotland's nature agency. We work to enhance our natural environment in Scotland and inspire everyone to care more about it. Our priority is a nature-rich future for Scotland and an effective response to the climate emergency. For more information, visit our website at www.nature.scot or follow us on Twitter at https://twitter.com/nature_scot
'S e NatureScot buidheann nàdair na h-Alba. Bidh sinn a' neartachadh àrainneachd na h-Alba agus a' brosnachadh dhaoine gu barrachd suim a chur ann an nàdar. Tha e mar phrìomhachas againn gum bi nàdar na h-Alba beairteach agus gun dèilig sinn gu h-èifeachdach le èiginn na gnàth-shìde. Tha an tuilleadh fiosrachaidh aig www.nature.scot no air Twitter aig https://twitter.com/nature_scot