19 July, 2022
Almost £1.5m in funding for extra rangers at Scotland's nature hot spots this summer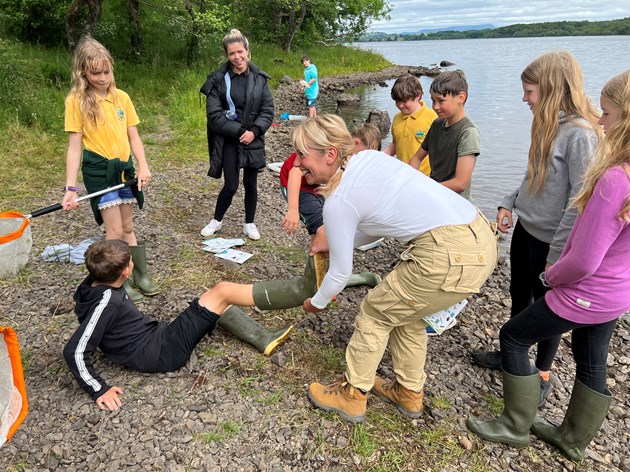 Many of Scotland's most popular natural sites are to receive a staffing boost this summer, with Scottish Government funding of almost £1.5 million to support better visitor management and help safeguard the environment for visitors and local communities.
The NatureScot Better Places Green Recovery funding will go directly to 48 countryside, coast and island projects across Scotland, enabling an additional 94 rangers and 15 visitor operations staff to be employed this summer across Scotland.
The extra 'boots on the ground' will promote the Scottish Outdoor Access Code (SOAC) and help manage visitor pressure in the North and West Highlands, the islands and the NC500; Highland Perthshire; Cairngorms National Park; Loch Lomond & The Trossachs National Park; East Lothian, the Pentland Hills and a variety of other locations across Scotland such as the Aberdeenshire and Moray beaches and Loch Ken in Dumfries and Galloway.
Funding has been awarded to 35 organisations - 10 community groups, 13 local authorities, nine voluntary sector bodies, two countryside trusts and one private company (details in Notes below). It complements additional investment in rangers and visitor operations made this year by NatureScot, Forestry and Land Scotland, the National Park Authorities and Scottish Water to support the management of busy outdoor places such as the National Nature Reserves, Parks, reservoirs and forests.
Environment Minister Mairi McAllan said:
"It is great to see and hear the breadth of organisations that are receiving support from this funding.
"The Scottish Government is in constant dialogue with relevant parties about the challenges caused by large numbers of campervans and wild campers in key hot spot areas and it's clear that the countryside rangers are having a significant positive impact in educating and encouraging visitors on how they can enjoy the countryside responsibly.
"This not only preserves our scenery and landscape, it also takes the pressure off our local communities and provides an informative welcome to incoming visitors."
Bridget Jones, NatureScot's Paths and Projects Manager, said:
"This staffing boost to support the management of Scotland's busiest and most popular natural and scenic areas is great news for everyone this summer. Scotland's landscapes and wildlife are one of our biggest visitor attractions and with this investment we can connect people with nature and help everyone responsibly enjoy some of the country's most spectacular locations, while ensuring that we protect and respect the places we visit."
A similar scheme funded 127 seasonal staff last year, and made a significant difference to addressing irresponsible parking, camping, fires, toileting and litter issues in many rural and coastal areas popular with staycationing tourists. Its success in improving visitor experiences, and reducing visitor impacts on local communities and the environment, led to the further funding allocated for seasonal staffing in 2022.
Complementing the face-to-face engagement with visitors, VisitScotland and partner organisations will be using social media, local radio and digital marketing to educate, inspire and inform people about issues related to visiting nature hotspots this summer, such as water safety, fire safety, dog control and wildlife disturbance. The overall aim is that visitors respect, protect and enjoy Scotland's outdoors this summer.
Further information:
The 109 seasonal posts equates to 103.6 Full-time Equivalents (FTE).
The total value of these additional seasonal posts is over £2 million when take into account other cash funding of £216,096 and in-kind contributions of £380,804.
Ends.
Contact information
Name

NatureScot Media

Telephone

0131 316 2655

Email
Notes to editors
Projects receiving Better Places Green Recovery Funding in 2022 include:
The Highland Council Access Rangers
https://www.facebook.com/thcaccessrangers
To employ an additional seven Seasonal Access Rangers and four Visitor Site Wardens to provide a comprehensive visitor management service within Highlands, working in co-operation with other organisations, landowners and communities.
Nevis Landscape Partnership
https://www.nevislandscape.co.uk/latest/153-another-year-another-season-and-a-new-ranger-team
To employ four full-time Seasonal Rangers to enhance visitor experience through visitor engagement and managing visitor pressures in the Nevis areas, and a full-time seasonal Events Liaison Officer to pilot a new approach for managing charity events on Ben Nevis, in collaboration with landowners and in co-operation with The Highland Council.
Islay Development Initiative
https://www.facebook.com/IslayDevlopmentInitiative/videos/1297133407362939/
12 key sites are serviced by the Seasonal Rangers, who will have conversations and build relationships with campers and where waste disposal/recycling services can be offered. They will carry out litter picking and provide information on local facilities.
National Trust for Scotland (Ben Lomond)
https://www.facebook.com/BenLomondRangerService
Recruiting a Seasonal Ranger will promote responsible access by conducting trail patrols and greeting visitors; carry out maintenance repair work such as removing waste and litter, repairing fences and monitoring footpaths; and generally support the conservation of this importance site.
Embers Aquatics (Scotland-wide)
https://www.facebook.com/embersaquatics/
To employ two seasonal staff to run a Scotland-wide water-specific warden project. Working with a range of partners and with a strong online presence to engage with people, the project will encourage visitors to look after the shoreline and water across Scotland when taking part in water sports and visiting.
https://www.facebook.com/lochkentrust/
To appoint a second Ranger for Summer 2022.
| | | | |
| --- | --- | --- | --- |
| Applicant | Local authority / National Park area | No. seasonal posts awarded BPF3 funding (rangers, visitor operations staff) | Amount awarded £ |
| Aberdeenshire Council | Aberdeenshire | 2 (2, 0) | 34,861.75 |
| National Trust for Scotland (NE Scotland) | Aberdeenshire, Angus | 1 (1, 0) | 11,102.11 |
| Appin Community Development Trust | Argyll & Bute | 1 (1, 0) | 8,163.00 |
| Islay Development Initiative | Argyll & Bute | 2 (2, 0) | 21,018.80 |
| Clackmannanshire Council | Clackmannanshire | 2 (2, 0) | 37,158.00 |
| Harris Voluntary Service (South Harris) | Comhairle nan Eilean Siar | 1 (0, 1) | 21,111.00 |
| Stòras Uibhist Ltd | Comhairle nan Eilean Siar | 1 (1, 0) | 14,668.73 |
| Voluntary Action Barra & Vatersay | Comhairle nan Eilean Siar | 2 (2, 0) | 44,950.00 |
| West Harris Trust | Comhairle nan Eilean Siar | 2 (0, 2) | 32,827.71 |
| Loch Ken Trust | Dumfries & Galloway | 1 (1, 0) | 11,040.00 |
| Mugdock Country Park | East Dunbartonshire, Stirling | 3 (3, 0) | 29,440.00 |
| East Lothian Council | East Lothian | 8 (8, 0) | 109,794.00 |
| City of Edinburgh Council / Pentland Hills Regional Park | Edinburgh, Midlothian, West Lothian | 8 (8, 0) | 100,703.68 |
| Falkirk Council | Falkirk | 1 (1, 0) | 13,000.00 |
| Fife Coast & Countryside Trust | Fife | 2 (2, 0) | 34,361.00 |
| Seven Lochs Partnership | Glasgow, North Lanarkshire | 2 (0, 2) | 17,886.00 |
| John Muir Trust (Ben Nevis) | Highland | 1 (1, 0) | 13,018.70 |
| John Muir Trust (Sandwood Bay) | Highland | 1 (1, 0) | 13,176.34 |
| John Muir Trust (Skye) | Highland | 1 (1, 0) | 14,133.64 |
| Kinlochleven Community Trust | Highland | 2 (2, 0) | 18,624.00 |
| National Trust for Scotland (Corrieshalloch Gorge) | Highland | 1 (1, 0) | 11,380.03 |
| National Trust for Scotland (Glencoe & Glen Etive) | Highland | 1 (1, 0) | 14,350.88 |
| Nevis Partnership | Highland | 5 (5, 0) | 67,940.00 |
| RSPB Scotland (Abernethy) | Highland | 2 (2, 0) | 21,101.26 |
| The Highland Council | Highland | 11 (7, 4) | 172,252.83 |
| SIMEC Lochaber Hydropower 2 Ltd - Jahama Highland Estates | Highland, Cairngorms National Park | 3 (3, 0) | 39,940.00 |
| Cashel Forest Trust | Loch Lomond & The Trossachs National Park | 2 part-time (2, 0) | 24,024.75 |
| Friends of Loch Lomond and The Trossachs | Loch Lomond & The Trossachs National Park | 1 (0, 1) | 9,608.00 |
| National Trust for Scotland (Ben Lomond) | Loch Lomond & The Trossachs National Park | 1 (1, 0) | 11,012.11 |
| RSPB Scotland (Loch Lomond) | Loch Lomond & The Trossachs National Park | 1 (1, 0) | 12,456.76 |
| Strathfillan Community Development Trust | Loch Lomond & The Trossachs National Park | 2 (2, 0) | 24,750.68 |
| Moray Council | Moray | 2 (2, 0) | 43,707.00 |
| North Ayrshire Council (Eglinton Country Park & key coastal sites) | North Ayrshire | 4 (4, 0) | 43,518.00 |
| The Arran Access Trust | North Ayrshire | 1 (1, 0) | 17,020.00 |
| Cloudberry Communities CIC | North Lanarkshire | 3 p/t (3, 0) | 15,769.00 |
| John Muir Trust (East Shiehallion) | Perth & Kinross | 1 (1, 0) | 14,131.35 |
| National Trust for Scotland (Ben Lawers) | Perth & Kinross | 1 (1, 0) | 8,980.34 |
| National Trust for Scotland (North Perthshire) | Perth & Kinross | 2 (2, 0) | 21,449.13 |
| Scottish Canoe Association (Grandtully) | Perth & Kinross | 1 (1, 0) | 9,402.00 |
| Renfrewshire Council (Castle Semple) | Renfrewshire | 1 (1, 0) | 15,010.50 |
| Renfrewshire Council (Gleniffer Braes Country Park) | Renfrewshire | 2 (1, 1) | 31,331.50 |
| Renfrewshire Council (Muirshiel) | Renfrewshire | 1 (1, 0) | 16,871.50 |
| RSPB (Lochwinnoch) | Renfrewshire | 2 (0, 2) | 13,000.00 |
| National Trust for Scotland (St Abbs) | Scottish Borders | 1 (1, 0) | 11,111.11 |
| Tweed Valley Tourism BID | Scottish Borders | 2 (0, 2) | 14,400.00 |
| South Ayrshire Council | South Ayrshire | 1 (1, 0) | 18,433.55 |
| West Lothian Council | West Lothian | 8 (8, 0) | 101,908.80 |
| Embers Aquatics CIC | Scotland-wide | 2 (2, 0) | 29,986.00 |
| TOTAL | | 109 (94, 15) | £1,435,885.54 |
NatureScot is Scotland's nature agency. We work to enhance our natural environment in Scotland and inspire everyone to care more about it. Our priority is a nature-rich future for Scotland and an effective response to the climate emergency. For more information, visit our website at www.nature.scot or follow us on Twitter at https://twitter.com/nature_scot
'S e NatureScot buidheann nàdair na h-Alba. Bidh sinn a' neartachadh àrainneachd na h-Alba agus a' brosnachadh dhaoine gu barrachd suim a chur ann an nàdar. Tha e mar phrìomhachas againn gum bi nàdar na h-Alba beairteach agus gun dèilig sinn gu h-èifeachdach le èiginn na gnàth-shìde. Tha an tuilleadh fiosrachaidh aig www.nature.scot no air Twitter aig https://twitter.com/nature_scot